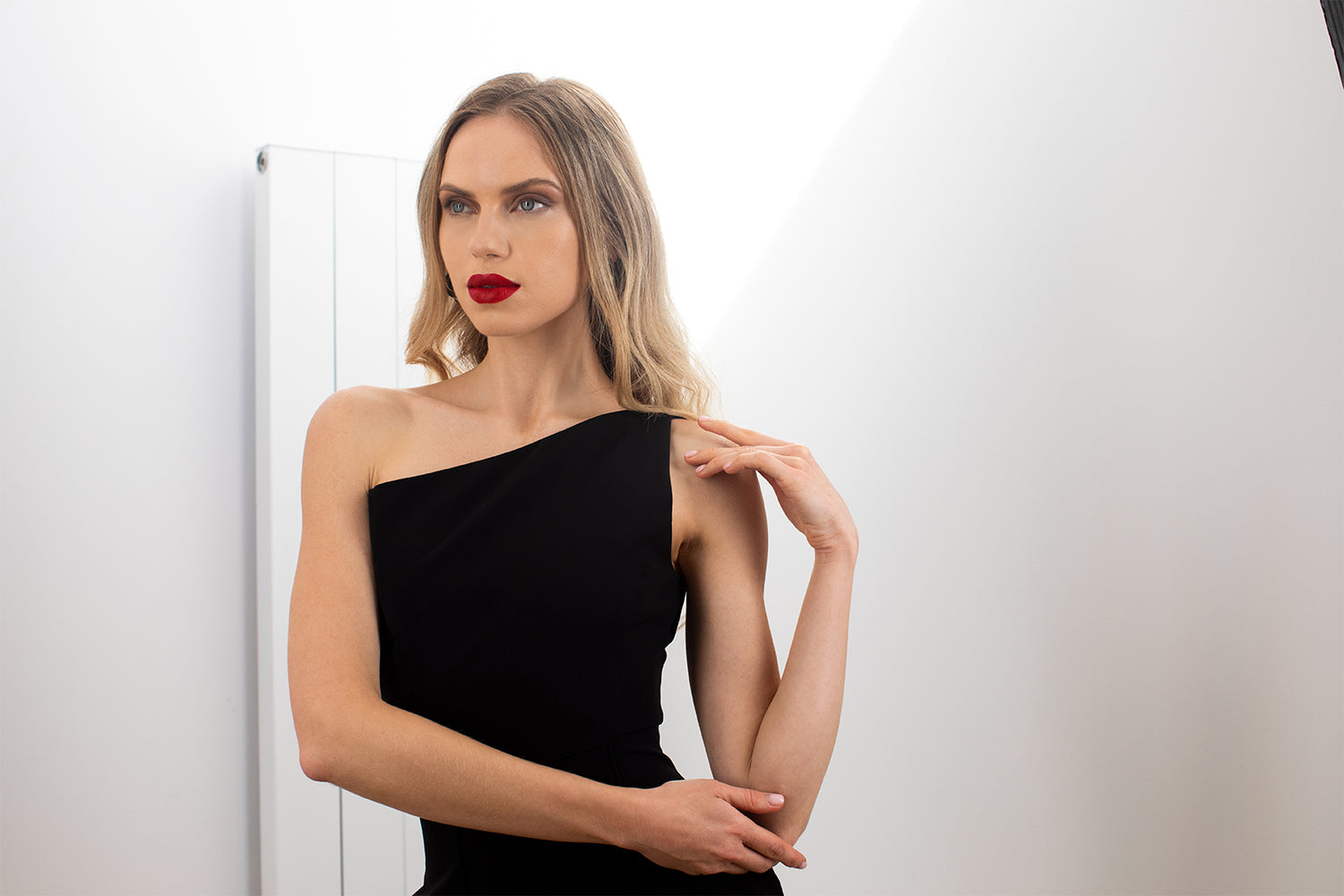 Back to 1999
Founder's Story
Meet the founder
Julie Lingard
I built AQAQ into an International Brand from a small store launch in The Corn Exchange, Leeds. Originally called Aqua Couture, I have spent the last 23 years building a global brand. We have enjoyed wonderful successes and some monumental hardships along the way and I wanted to share my story. I am so grateful to all of our amazing and loyal customers who have shared this journey with us.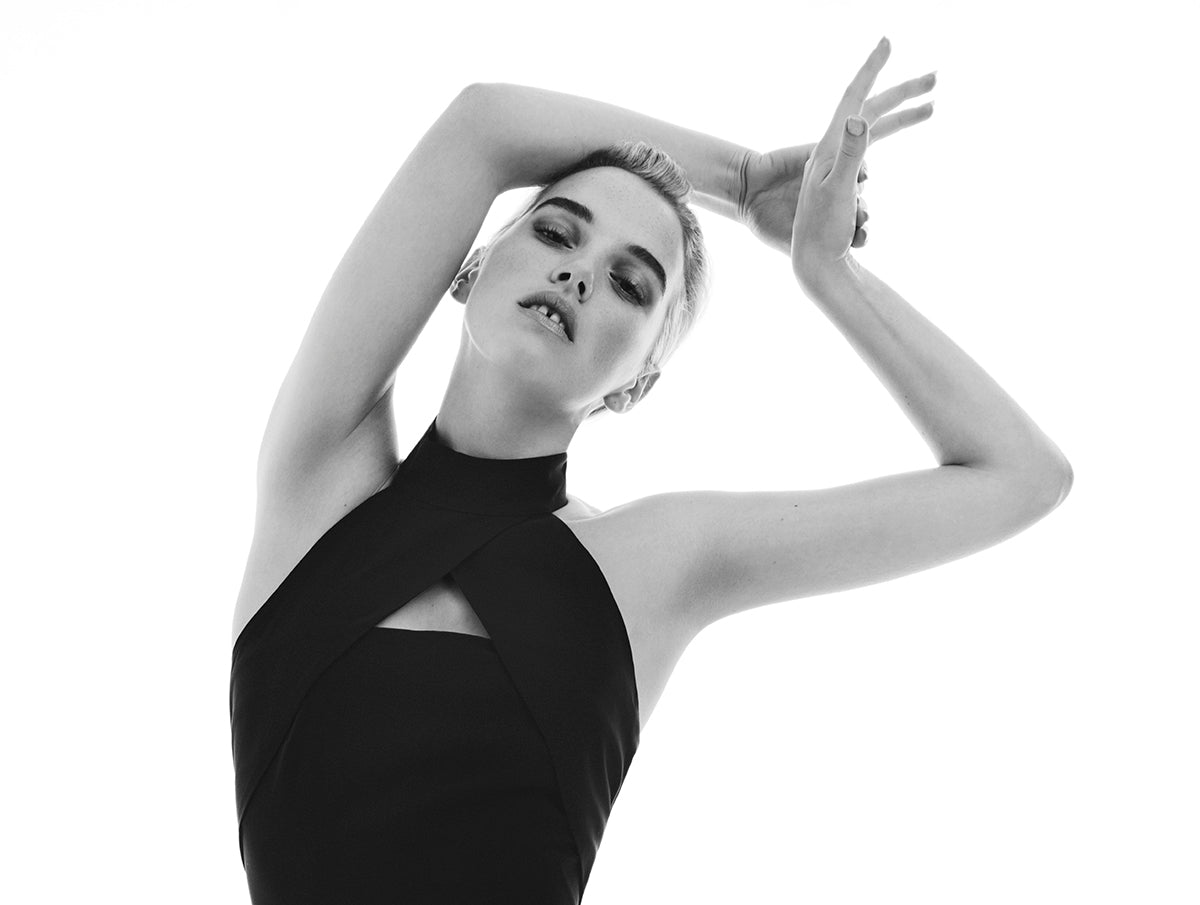 From a young age, I always knew that fashion was my lifetime calling. I have spent the last 23 years building AQAQ into a global brand from its humble beginnings as a small store in the North of England.
The brand has had some incredible highs. At one point, two big flagship stores, mens and woman's in Soho London. To becoming a huge global brand especially in the US market, worn and supported by Rhianna, J.Lo and Lady Gaga to name a few.
As is always the case with life, we celebrate the highs, but it's how we tackle the lows, that really defines us. Like all businesses in growth, we have also had some monumental struggles over the years. A huge warehouse flood that took out our entire stock valued at £800,000, a law suit for £500,000 from Bloomingdales in the US and their own brand Aqua (even though they stocked us at the time and we were a big seller, go figure...). As a result we had to suffer an expensive rebrand Globally. Finally, Covid effected us all in many awful ways, but navigating a event wear brand through a pandemic with multiple lock downs and a ban on all gatherings, wasn't easy, to say the least. But thanks to our amazing team and loyal customers, today I am pleased to say that AQAQ is stronger than it has ever been and we are currently working on relaunching the new AQAQ with an amazing new collection later this year.
This is the story of how it all started and how we got to where we are today. What a journey, what a life.
The Beginning
In 1999 I set up a small independent store in the iconic Corn Exchange in Leeds.
Leeds at the time was giving birth to an incredible dance music scene and the iconic corn exchange was at the heart of it all. Full of independent clothing stores and a dance music record shop called "Play Music" where most of the Leeds DJ's would hang out, it was ridiculously hip way before the term "hipster" even existed. The Corn Exchange during that time was a real scene, setting the trends for the new and evolving northern dance party explosion. Leeds was also quickly becoming the gay capital of the North, it was progressive, with music and fashion being the epicentre of it all. During that time iconic club nights such as Back to Basics, Speed Queen and Federation were born.
Our shop was dressing most of the women who were on that scene. AQUA (as we were known then) quickly established it's reputation "up north" for the go to shop for party wear. The original AQAQ was called AQUA COUTURE, and I set it up with a fashion designer called James Steward. James had a little design room in the back of the shop where he would be tirelessly making on the spot couture for woman wanting something unique, quirky and different to wear that no one else had. We also stocked independent labels, and we were always on the lookout for new "off the wall" designers. 
In the first few weeks of opening up AQAQ, I met Caroline, who now 23 years later, I'm proud to say is our Creative Director and my life long best friend.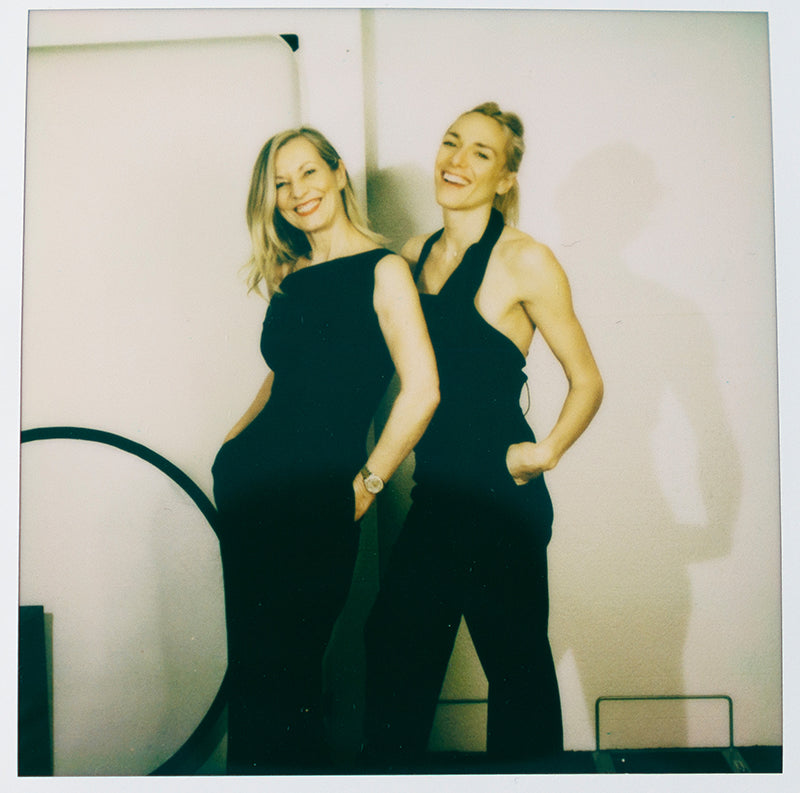 LIFE LONG BEST FRIENDS
JULIE & CAROLINE
Caroline was working as a Saturday girl at one of the neighbouring shops and when we first met we instantly connected. She was only 19 years old but her energy and intelligence shone out of her eyes like an old soul. I asked her to jump ship and she came to work for me. I knew that she was someone who would be in my life and business for a long time. 23 years later she has come on board as my Creative Director and we have nick-named each other "spiritual business partners"... Caroline has been creative all her life, whether animating, painting, designing or photographing, her finger has always been on the pulse. This passion for all things creative and life, has taken her around the world from living in New York, to Burning Man, to Ondalinda in Mexico and back again via LA.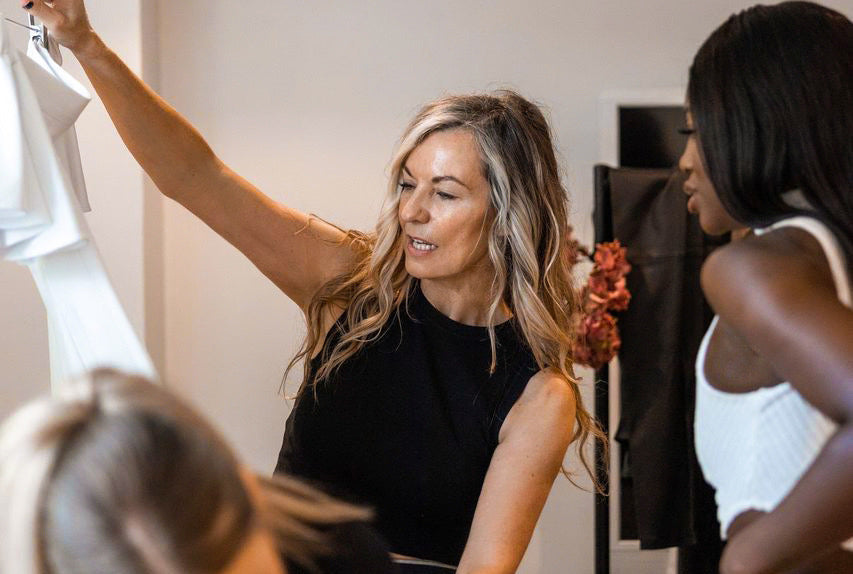 AQAQ was born from friends, design, love and a passion for music and partying. We had our talented designer James Steward reworking denim in a cupboard under the stairs. We would have the DJ's from Play Music come and hang out in the store, the girls working for me would all be party girls that soon became the best of friends. Everyone loved and wore the clothes and Saturday's in the shop just used to feel like one huge pre-party before hitting the clubs on a Saturday night. 
Saturday night's at the clubs in Leeds were full of girls wearing AQAQ, but because we made bespoke pieces, no one look was ever the same. 
Customers who came in to shop used to just want to hang out in the shop because it was so fun, the music was banging, the girls were funny and engaging and we still laugh about our 'Special Saturdays' which remains to this day a secret amongst the AQAQ girls.
The Corn exchange in Leeds during that time was one big happy family, and I could see that this small store in Leeds had created magic that eventually snowballed into a global brand. I always had a love for retail and even though I was technically  the boss, you would always find me in the back helping a customer in the changing room, now when I look back, I could see that my true passion was making women feel great in the clothes I would style them in. 
I loved styling and being around interesting incredible women. We always had a stream of amazing customers coming through our doors going to different events. We delivered elevated styles for all occasions. The original store was quirky, it was run in a quirky way and full of quirky people. After a few amazing years and three stores "up north" we decided to go big and take our northern spirt to the big smoke, as London was calling.
We opened up our flagship store just off Carnaby Street and our business just exploded, with a second London store opening soon after and also being stocked in the likes of Harrods. Our flagship Soho store became the port of call for stylists and celebrity clientele London wide. We were very quickly becoming unstoppable.
AQAQ grew from strength to strength and started to take a strong hold in the American market. We learned from ASOS.com that AQAQ was their highest-selling brand by percentage in the US market and we should get over there fast. The Americans loved AQAQ, we started showing our wholesale collections in a showroom in New York and then we soon became one of the biggest selling brands in Bloomingdales. We have to give credit to our amazing Sales & PR team which were based in the US at the time. 
But this wouldn't be a journey of success without some hardship and trials along the way.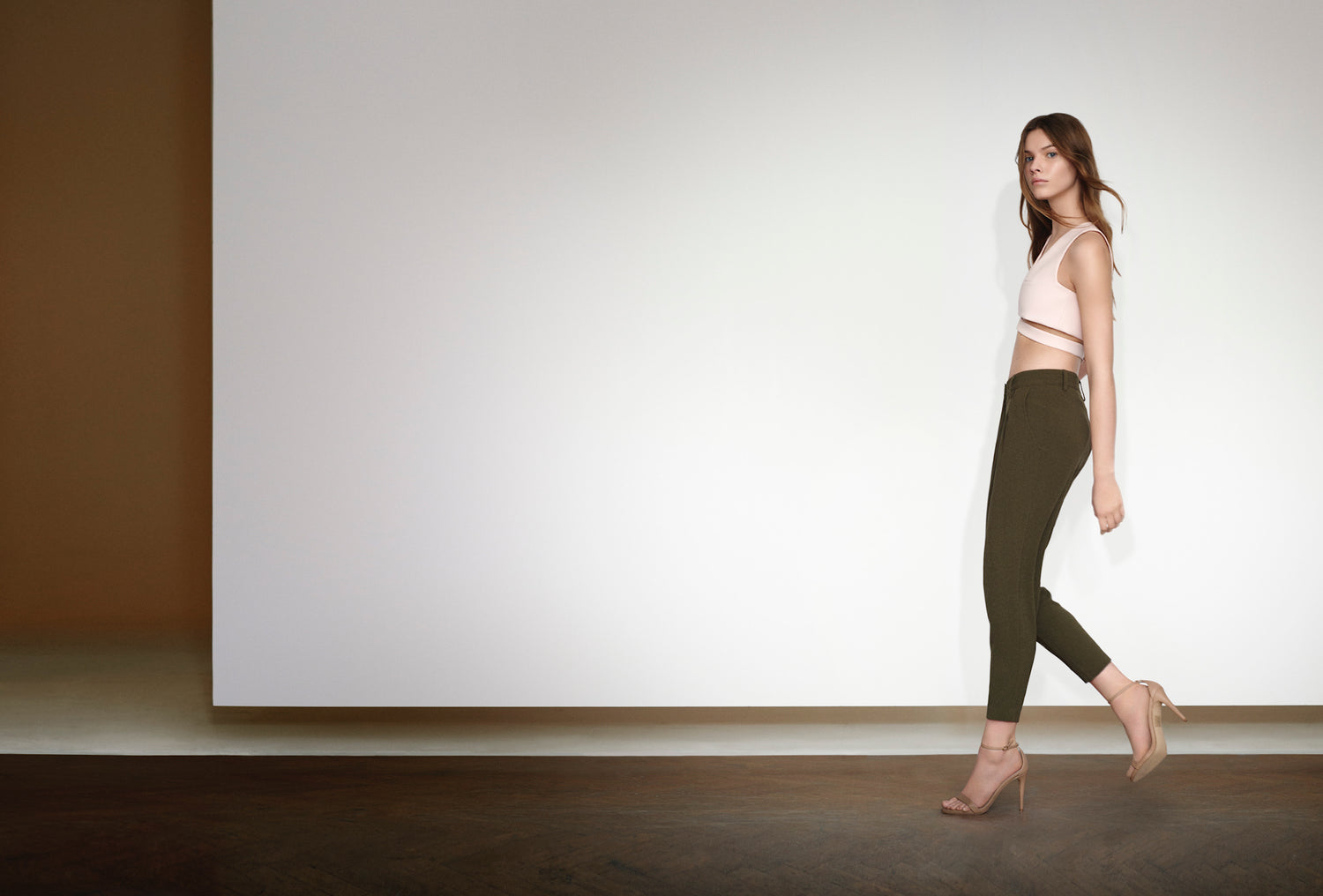 Being one of the biggest selling brands in Bloomgdales soon backfired on us. We were selling in Bloomingdales for three years before it was flagged up that Bloomingdales already had their own in-house brand called Aqua.
Understandably Bloomingdales threatened to sue us for trademark infringement on the word AQUA. Even though we had been selling our brand originally called AQUA on the second floor of Bloomingdales, they had their in-house brand Aqua on the third. You couldn't make it up. They slapped a litigation suit on us. With immediate effect our online American sales ceased, as everything was frozen until we could resolve the issue. ASOS.com who sold our brand in the US took all our product off their site. A hugely scary time for us, as they had over £1,000,000 worth of stock. 
Within the week I was on a flight to New York to have a face-to-face meeting with Bloomingdales' legal team.
To be fair, Bloomingdales were supportive and helped us rebrand without any infringement on their brand. Three months later we re-launched as AQAQ, a derivative of our website www.aquabyaqua.com at an expensive rebranding & trademarking cost of £250,000. ASOS.com had to recall all our styles from the US to be relabelled and repackaged. In my next sales appointment with ASOS I was told any suppliers that rebranded their name were automatically de-risked by 50%, this cost us additional losses of just under £1,000,000 in wholesale orders in the coming year. All in all a hugely stressful and damaging time for our business.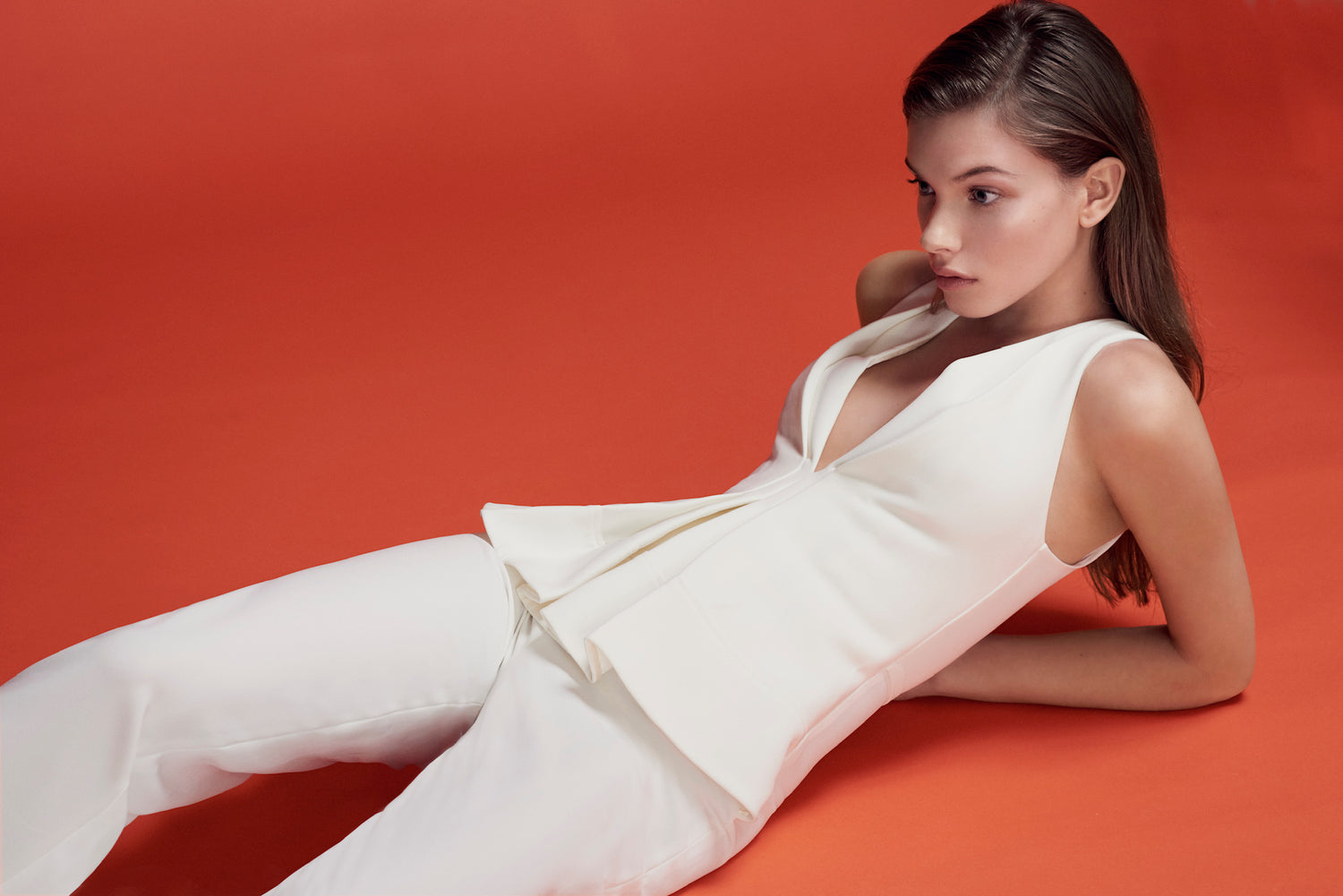 THE IRONY OF AQUA BEING FLOODED
The second disaster after being sued by Bloomingdale's struck on Boxing day 2016, when the river Aire burst its banks and flooded our warehouse under 5ft of water, the damage was irreparable. 
This devastated us.
The name AQAQ derived from the original name Aqua, so it's ironic the water made us lose almost everything. We had to canoe to the warehouse, it took over thirty people ten days to clear up and salvage what we could, once the water had finally receded. I was so proud of our team who fought with determination to stay afloat during this time (excuse the pun).
All in all we lost £800,000 worth of stock and the insurance company only paid a fraction of that amount to us, six months later. 
The only sizes which were saved, were size 6's, so for six months we could only cater for a tiny amount of size 6 customers, quite literally.
But we got through it...
THEY SAY, BAD LUCK COMES IN THREES
After the flood and the rebrand. We had to start the business again. We decided to focus solely on our online platform. After getting back on our feet to a semblance of normality the pandemic hit and we faced one of our biggest challenges yet.
COVID 19
Covid was a hard time for us, as it was for so many brands. We nearly lost the business. We have always been a party and event wear brand. Going in and out of nearly two years of lockdowns, was the toughest time for us in the brand's history.
Sadly we had to restructure the business. I felt we had failed our customers and my colleagues, I was determined to put things right.
As I'm sure you know a lot of businesses small and large, went through significantly difficult times in this period in history. It was something none of us were prepared for.
A Lot of other brands wiped the slate clean when restructuring, leaving customers without their orders and without refunds. I couldn't stand for that, nor was it something I was willing to do to our customer base. We decided as a business to honour all sales and refunds from the previous company. In my naivety I underestimated the knock-on effect this would have on the new business and our processing times. It caused delays that we are not proud of as a brand. We hate letting our customers down, customer experience is everything to us and we hope that everyone knows that this came from a place of honour and integrity. Our team also took a hit, we went from a 47 strong workforce, to a now very small passionate core team.
I understand that this customer experience caused us some damage in the long run, but we focused on rectifying this and getting back to our previous standards. This whole experience taught me a lot regarding business. But I have to say, if it happened again, I would still honour all sales and refunds, as I value every single customer who has stood by us over the last 23 years.
Our strength is in our brand values, ethos and above all else, our commitment to you our amazing customers. I would like to thank you all for your continued support. It's our brand loyalty from our customers who have helped us through these difficult times.
We want you to know that after 23 years of running AQAQ this brand only exists because of you all.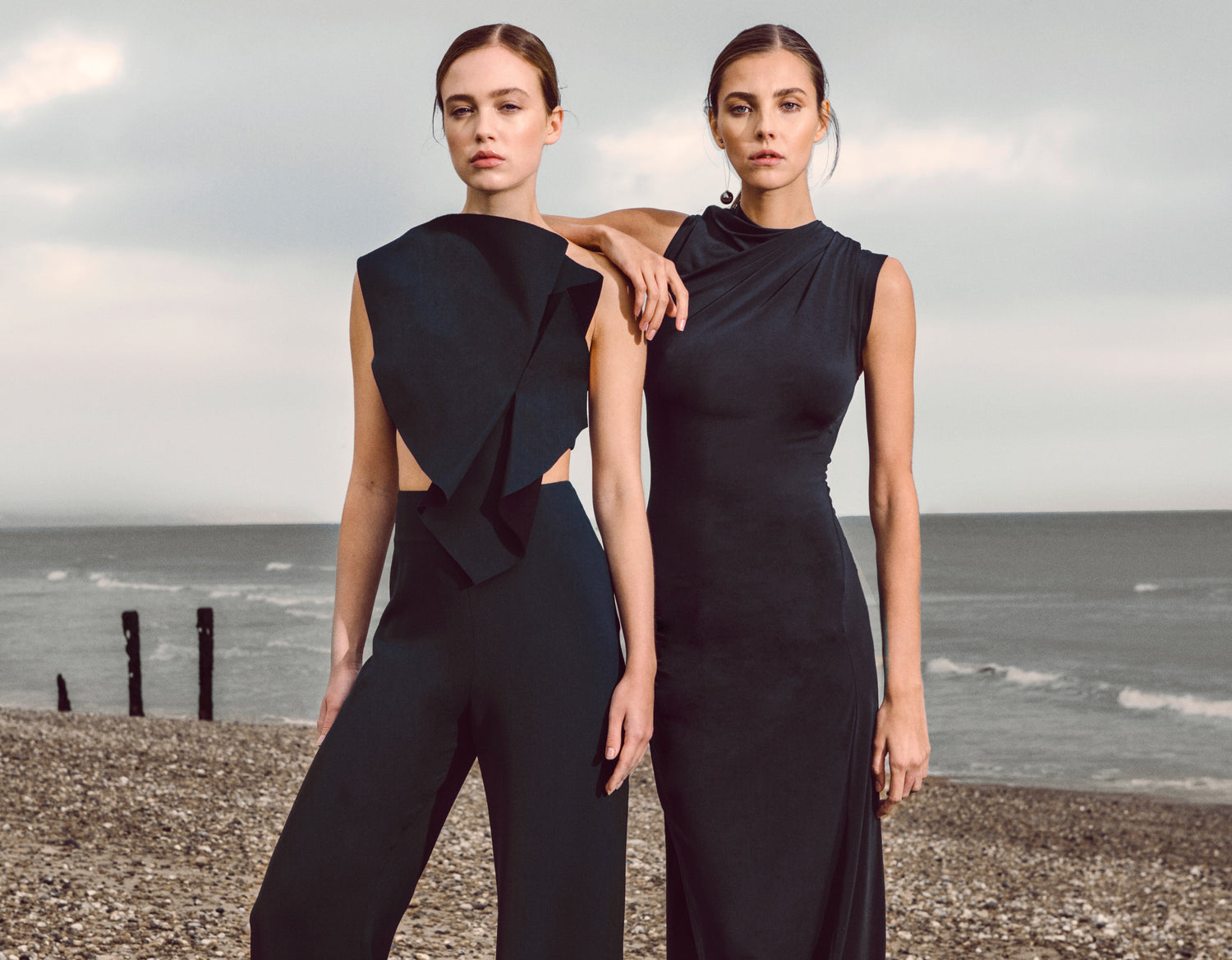 THE NEW AQAQ
Moving into 2023 best friends, spiritual business partners and "ageing party girls" as Caroline always jokes, are taking on a new era of brand evolution. Caroline still loves going out, dancing and music, "once a raver always a raver". Caroline plans to bring the brand back to its original roots of sleek sexy feminine designs, whilst also pushing a new contemporary concept for our future.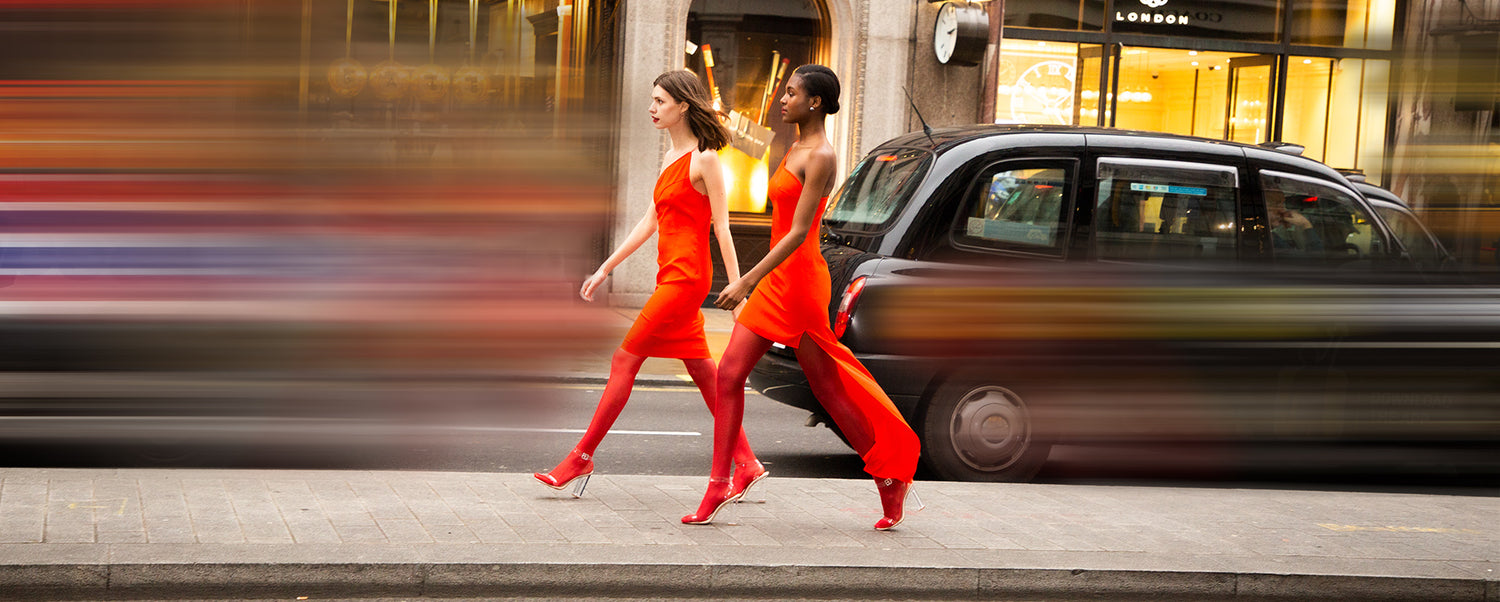 the next chapter
We as a brand are venturing into new territory with our new collection and our commitment to sustainable practices within our clothing and jewellery line. We are no longer the large scale company we used to be, but our dedication to quality and our passion is still the same.
"Change is hard at first, messy in the middle and gorgeous at the end"
Born in London, but the next chapter will be raised in Los Angeles. Celebrating the brand's love for glamour, parties and celebrity. LA is at the center of global influence and red carpet culture. Allowing AQAQ to launch its experiential concept store in 2024. The two partners will take up residency, with retail, couture, photography and design studio and events all sharing space. Harking back to the founding era of AQAQ in our Leeds store days. A melting pot of people, creativity, fashion and music. Launching the brand into the LA market and it's imitable globally influential scene. Follow our journey and watch the brand elevate. It's our time to build on the bricks and motor of an iconic British Fashion Brand and to thrive in the Californian sunshine.
Follow us on our journey @aqaq