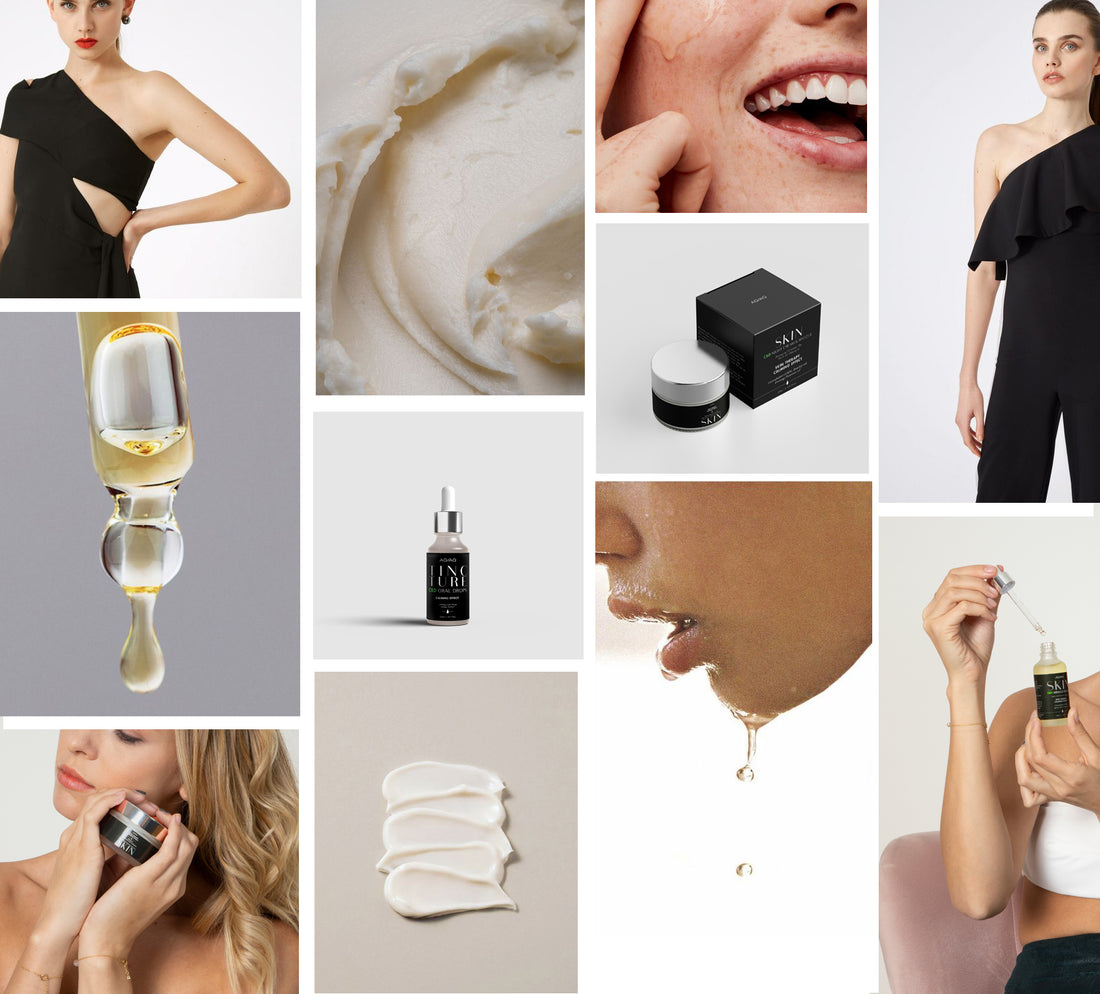 Beauty is a new direction for me and my company, check out a little interview with some big questions to help you understand my vision of AQ/AQ Beauty.
Why did you choose beauty, what is your connection to it?
"Beauty and fashion have always gone hand in hand in my eyes, during the pandemic I found myself with a little more time on my hands than i'm used to, and I got thinking about the time and money I personally had been wasting on my skin care that just wasn't giving me the results I desired."
"l had been dubbed the Queens of creams since the beginning of my beauty regime, if there was a cream for it, I would buy it. I've tried everything in my life in the quest for eternal youth, Beauty, botox, fillers you name it I've done it.
I've been full circle and found out through my own discovery, all the expensive beauty products and services were a racket, over promising and under performing."
"The best thing for my skin is wellness, healthy eating, plenty of water and natural plant based products, think about it from the beginning, the big bang, we evolved from the stars, atoms, we evolved over time but basically we came from the earth, so surely it's nature, the earth can heal us, botanical products are closest to our DNA, through plant based products we can hydrate, nourish, replenish and flourish, all words we use for plants, us as humans can benefit.
 Honey, avocado, yogurt is still one of my favourite go to facial masks to totally nourish the skin. People spend thousands on expensive chemicals to smooth away fine lines, I know I have in the past, but the best way to smooth the skin is to nourish, it plump it with hydration, yoga, exercise, sleep and good nutrition is the longevity of life and the inspiration behind my CBD collection."
Why CBD? 
"That is a good question, It is because it's a plant, grown from the healing earth, inexpensive to extract and has very powerful healing and anti-inflammatory properties.  It's still nuance and people still don't fully understand the powerful healing properties of CBD but as it's becoming regulated and renowned in the beauty and health industry we are seeing it more.
CBD is such an amazing natural healer I don't know what I would do without it. 
Clean, Botanical, Design is the core and focus of my collection."
What inspired the collection?
"AQ/AQ inspired the collection, we have always been known as a minimalist fashion brand, the collection has the same core values as AQ/AQ, clean, design lead products."
What is your favorite product combination and why? 
"100% my favorite products combo is Miracle face oil as I use every day and night with my Gua Sha routine, to lift, plump and hydrate the skin. Then in an evening after doing a 3 min face routine with miracle face oil and gua sha tools I apply the night masque cream, in a nice thick layer and tap into my skin to physically fully absorb before I get a restful nights sleep. As I sleep my skin is being replenished with the wonderful healing,  anti-inflammatory properties of CBD at the same time aiding restorative sleep from within.
It's the perfect night time routine!"